At 7:30 am, Tuesday, October 29, 2019, we boarded the Presbyterian Education Board (PEB) bus at the headquarters in Lahore, Pakistan, for the two-hour drive to Sargodha. We 11 Derry travelers were greeted by the entire student body, Christian and Muslim. Kindergarten children dressed as fairy tale characters, that month's curriculum theme, presented us with bouquets of roses. There were hats and scarves for the men. The older students danced and drummed and sang. We toured the elementary school displays of science projects and visited classrooms in both the boys and girls schools.
At the Christian Girls Boarding House 74 girls greeted us with huge smiles. Debbie Hough told them how much Derry cares for them. "We want you to study hard, be healthy, and pray, so that you are strong in mind, body, and heart." We sang "Jesus Loves Me" with them, and many of them knew the refrain in English. We each chatted with a small group of girls. When I asked, English got several votes for favorite subject, then science. They have big dreams. Most said they want to be teachers, others said scientists. We were impressed and inspired by their enthusiasm for learning and their appreciation for education.
Like parents everywhere, Pakistani parents want the best education possible for their children. So they seek a private school, not a government or Taliban school. But many of them are poor, and a good education is out of reach. PEB's mission is to provide enduring, high quality education of mind, body and spirit to individuals of all religious backgrounds, regardless of their ability to pay. They are highly regarded schools in their communities and continue to grow.
For ten years, Derry Church has maintained a partnership with PEB. PEB operates 25 schools, primary through high school, including some boarding schools, that serve more than 5,900 students. Derry, through the Friends of Sargodha group, has a particular relationship with the schools in Sargodha. Our goal is to provide ten scholarships every year. You can help.
A full scholarship for a day student is $370 a year, about a dollar a day. We are dividing that amount into ten shares, $37 each, to offer you the opportunity to support a portion of a scholarship.
You can purchase one or more shares by writing a check to Derry Church notated "Pakistan Scholarship" or giving online through the church website and selecting "Pakistan Scholarship." Whether you are able to give one share, three, or 15, together we can fulfill the dreams of ten students in 2021. PEB students will thank you for the precious gift of education that will help them contribute to positive changes in society as citizen-leaders in their communities, churches, their country and the world. Who knows? – your student may one day be the one to change the world.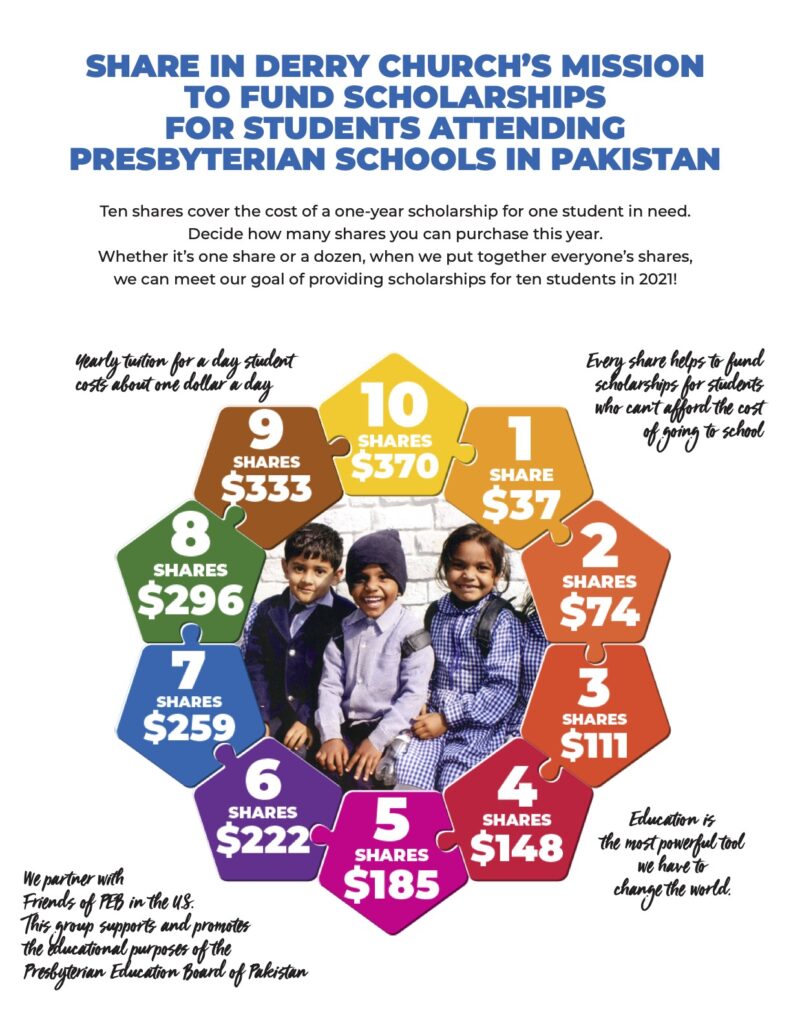 Editor's Note: On the first Thursday of each month, the eNews feature article highlights the mission focus for the month. In January we're lifting up women's equality, justice and opportunity.
This Thanksgiving holiday was vastly different for Stop the Violence (STV), an organization in Harrisburg dedicated to providing counseling for women of domestic violence, as well as providing food, clothing, gifts and school supplies to families in need. Stop the Violence gave away over 50 Thanksgiving baskets and, for the first time in 25 years, had no food left over. Stop the Violence was unable to purchase turkeys from the Food Bank this year, but a friend of mine who works with a non-profit organization offered us almost four dozen turkeys (they also had hams to hand out). God is always intervening and keeping watch over those with the greatest need.
The Christmas season was also different this year. Many families signed up for food baskets instead of toys for the kids because they are destitute. There are many families that are really suffering: they have no money, they cannot pay their bills, they are getting ready to be evicted, and they have family members that have died (or are dying) from COVID-19. Suicide is on the rise.
I've been consumed with consoling those who lost loved ones and praying for those who are still sick in hospitals. I've made many phone calls and sent texts to encourage people that are having a hard time with pandemic. Many people are isolated and are afraid to go out. This has been one of the hardest Christmas seasons I've ever seen.
Despite these hardships, we've been working to counsel women and families, provide food baskets, deliver toys and new coats to the children, and provide small Christmas trees and decorations to try to bring joy into the community. We've provided blankets to seniors and children thanks to a volunteer whose women's club made and donated over 50 quilts. God has been so good through all the tears, broken hearts, death and sorrow. God makes it possible to make a difference no matter what the situation. God turns attitude into gratitude.