Grant Wareham • Director of Music Ministry and Organist
September 9, 2021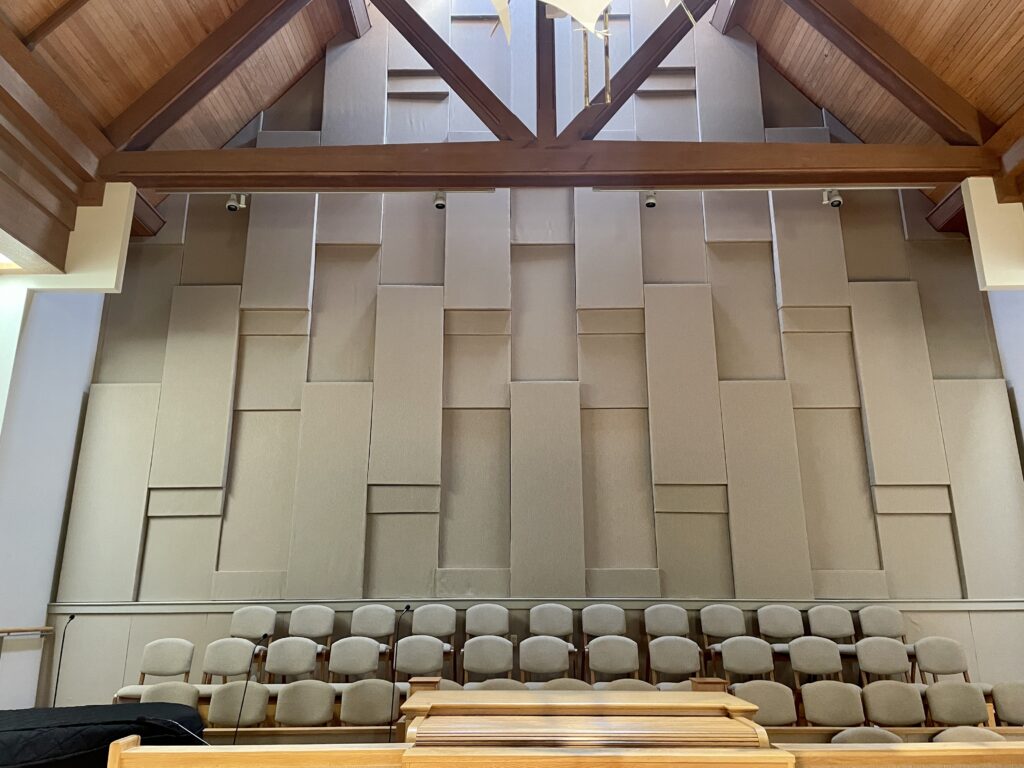 There's a great deal of excitement going on in the music department the next few weeks, and I hope you'll join us, either by attending or by participating:
Organ Dedication Sunday: October 10
The organ is almost ready! As I write, every single pipe is in its place, the wiring is done, and we're waiting for the electrician to wire the console into the blower which supplies the air to the pipes. As with all big installation projects, there have been delays. We now expect the organ will be ready to play by September 22 . The organ dedication was planned for September 25, but that doesn't give anyone much time to familiarize themselves with the instrument. The new date for the organ dedication will be Sunday, October 10 during the 10:30 am service. It will be a great day of celebration!
We won't have an 8 am service that day so that all may attend this special service, followed by officer elections. The service will feature an extended prelude of organ music beginning at 10:15 am. We will have a litany of dedication, hymns, and anthems by our choir.
The Sanctuary Choir will sing Martin Shaw's lovely and exciting "With a Voice of Singing," and the upper voices of the choir will sing "There's a Wideness in God's Mercy" to a beautiful tune written by the American composer Calvin Hampton. Calvin was a brilliant, prolific composer of sacred music in the latter half of the 20th century who worked at an Episcopal church in lower Manhattan until his untimely death. I've always had a fondness for Hampton's work, and the dedication will also feature his "Postlude on [the tune] Engelberg" as an extended introduction to the singing of the same hymn, which you likely know as "When In Our Music God is Glorified." The other hymns will be "Praise to the Lord" and "Alleluia, Sing to Jesus." "Praise to the Lord" will feature our lower voices on a four-part arrangement acapella.
We will have remarks from Nicholas Thompson-Allen, the organ builder in charge of the installation, whose father Aubrey presided over the initial installation in 1950.
The service will conclude with Charles-Marie Widor's beloved Toccata from his 5th organ symphony. I am delighted to be playing the Widor Toccata for a number of reasons: it was the final piece heard on our previous Reuter organ before it was dismantled. It's commonly heard at the end of Easter services around the world. In a way, this dedication is an Easter celebration for our music program and a signal of new life for even more meaningful worship here at Derry. And Tracy and Nicola Burke will be joining in to play the brass parts, which will make it even more fun.
Inaugural Recital: 4 pm Sunday, Oct 10
You're invited to return in the afternoon to hear a program that highlights all of this instrument's many capabilities. You'll hear soaring, pure flute tones of the new Harmonic Flute (yes, actually brand new pipes that were not in the instrument's original installation) on Louis Vierne's "Clair de Lune." You'll hear a bubbly prelude and a soaring fugue in Maurice Duruflé's tribute to his fallen friend, Jehan Alain, in his "Prelude and Fugue on ALAIN," and the organ used as an actual orchestra in an organ transcription of Felix Mendelssohn's "Overture to Ruy Blas." The program will conclude with Max Reger's Chorale Fantasy on "How Brightly Shines the Morning Star."
I'm particularly excited to present the world premiere of "Up to Eleven," a piece written specifically for this instrument by our own Dr. Jamie Mosher.
I have played a number of organ recitals, but have never had the chance to play the dedicatory recital for a new installation, so I'm honored and excited to play this program.
Musical opportunities for all!
As we begin a new program year, I want to extend an invitation to everyone in the congregation to participate in our music program. We are fortunate to have a wide variety of opportunities for all ages and levels of musical training.
For adults, the Sanctuary Choir rehearses weekly from 7 to 8:30 pm Thursdays and sings 3-4 times a month for worship. We also have the Derry High Voices for anyone (male or female) who prefers to sing in either the Soprano or Alto range. You'll hear the Derry High Voices singing an introit on Sunday September 19.
The Derry Low Voice Ensemble is open to all who sing in the Tenor or Bass ranges. These ensembles sing once every few months, and are a great chance for anyone not able to make regular Thursday evening rehearsals. You'll hear them this Sunday, September 12.
If you are looking for a more intense singing experience, we also have smaller ensembles that sing challenging repertoire in octets or triple quartets. Please contact me for more information.
The Derry Ringers will begin rehearsals very soon, and are open to adults interested in ringing handbells. Matt Haas has graciously agreed to direct the Derry Ringers, and you can contact him to learn more about rehearsals.
Our children's and youth choirs will start rehearsals when Terrific Tuesdays begin on Oct 5 with bell and singing choir opportunities. Let me know if there's a young person in your family who would like to participate as we sing and ring praises in glory to God.
Related Articles