CAMP WEEK FOR KIDS: JULY 11-14
June 1, 2022
Children age 4 through entering 5th grade are invited to join us for "Wonderfully Made," an exciting week of camp here at Derry Church. The children will explore the book of Psalms, learn that we are co-creators in God's world and hear words that help us better understand that we are each "Wonderfully Made" in God's eyes.

Camp Week is happening July 11 through July 14 from 5:45-7:45 pm. Our time together begins with an optional dinner in Fellowship Hall, a time for fellowship, ease and delicious food. Evenings conclude with a campfire and s'mores on the front lawn for anyone who would like to enjoy family fellowship with friends.

Cost is $15 per child. Click here to register. Church families have the opportunity to sign up first as space is limited. We encourage you to sign up early as we expect an exciting response! Community members will be invited to register starting on Wednesday, June 15.

Many hands are needed to make this event possible. We hope that our congregation will once again join us for this fun week and help us make it a "wonderful" experience for all the children. Please click here volunteer.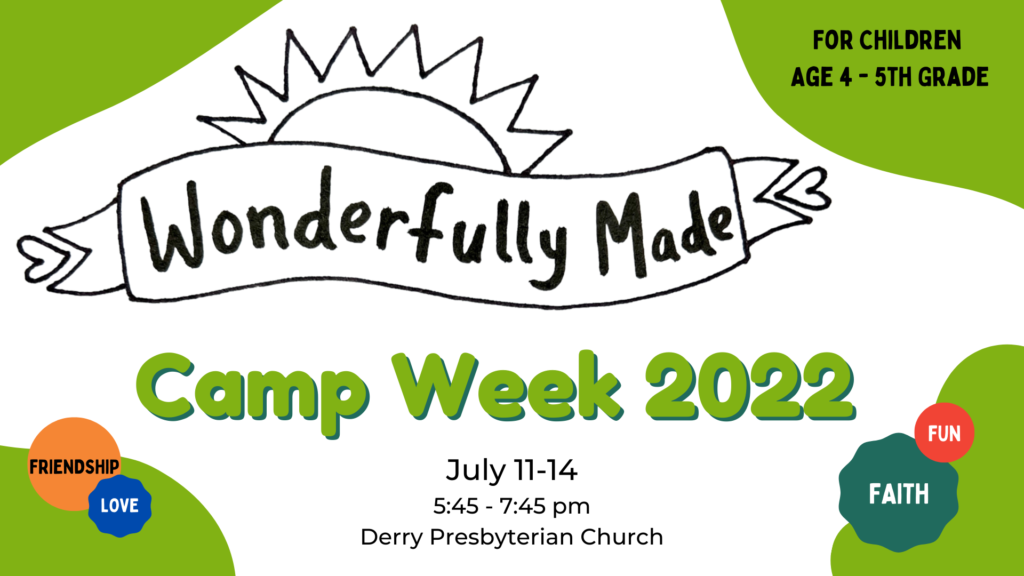 Related Articles