Revitalize Your Reading Life with These Quick Reads
July 28, 2021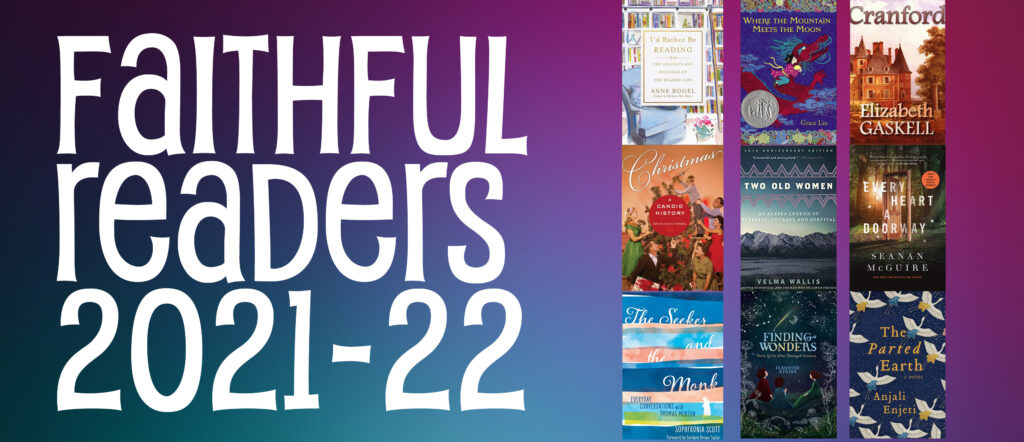 This year, Faithful Readers embraces the theme "Revitalize Your Reading Life" with shorter books chosen from a variety of genres.
Meet on Zoom at 2 pm on dates listed below. Email the church office if you need the meeting ID.
Books will soon be available in the church library. Call the church office to confirm availability of the title you'd like to borrow: 717-533-9667
Join the Faithful Readers on Facebook for more insight, information, and conversation
Sept 12: I'D RATHER BE READING: THE DELIGHTS AND DEMANDS OF THE READING LIFE by Anne Bogel. In this collection of charming and relatable reflections on the reading life, blogger and author Anne Bogel leads readers to remember the book that first hooked them, the place where they first fell in love with reading, and all of the moments afterward that helped make them the reader they are today.
Oct 17: WHERE THE MOUNTAIN MEETS THE MOON by Grace Lin. A girl's extraordinary journey to find the Old Man on the Moon to ask him how she can change her family's fortune, encountering an assorted cast of characters and magical creatures on her quest for the ultimate answer.
Nov 14: CRANFORD by Elizabeth Gaskell. This classic novel is set in a small rural town where domestic peace is constantly threatened in the form of financial disaster, imagined burglaries, tragic accidents, and the reapparance of long-lost relatives.
Dec 12: CHRISTMAS: A CANDID HISTORY by Bruce David Forbes. Written for everyone who loves and is simultaneously driven crazy by the holiday season, this book provides an enlightening, entertaining perspective on how the annual Yuletide celebration got to be what it is today.
Jan 9: TWO OLD WOMEN by Velma Wallis. Based on an Athabascan Indian legend passed along for many generations from mothers to daughters of the upper Yukon River Valley in Alaska, this is the suspenseful, shocking, ultimately inspirational tale of two old women abandoned by their tribe during a brutal winter famine.
Feb 13: EVERY HEART A DOORWAY by Seanan McGuire. "A mini-masterpiece of portal fantasy ― a jewel of a book that deserves to be shelved with Lewis Carroll's and C. S. Lewis' classics" ―NPR
Mar 13: THE SEEKER AND THE MONK by Sophfronia Scott. The author mines the extensive private journals of Thomas Merton, one of the most influential contemplative thinkers of the past, for guidance on how to live in these fraught times.
April 10: FINDING WONDERS: THREE GIRLS WHO CHANGED SCIENCE by Jeannine Atkins. Told in vibrant, evocative poems, this stunning novel celebrates the joy of discovery and finding wonder in the world around us.
May 15: THE PARTED EARTH by Anjali Enjeti. Spanning more than half a century and cities from New Delhi to Atlanta, Anjali Enjeti's debut is a heartfelt and human portrait of the long shadow of the Partition of India on the lives of three generations of women.
Related Articles