Pam Whitenack • Elder and Chair, 300th Anniversary Committee
December 16, 2021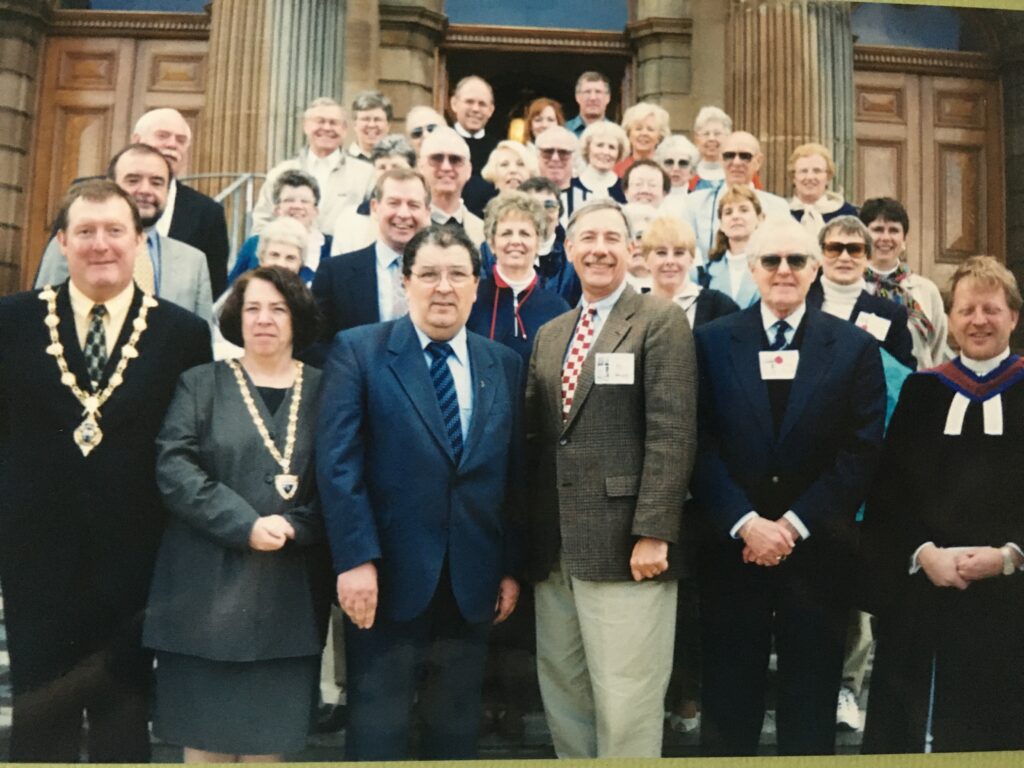 Derry Church has had the opportunity to connect with many amazing people over the years. Our church family has benefited from learning from world-class theologians, musicians, and composers, as well as world political leaders. How Derry was able to connect with these remarkable people is often serendipitous.
In 1998 Derry Church began making plans to celebrate its 275th anniversary the following year. Reverend David Birch (retired) who had served as Derry's interim pastor before Reverend Dick Houtz was called and who regularly worshipped at Derry, served as the 275th Anniversary Committee chair. Remarkably, one of Dave Birch's neighbors was Tom Foley, who was active not only in Pennsylvania politics but was also deeply interested and involved in efforts to bring peace to Northern Ireland, something that he begun during a graduate fellowship at University College Dublin back in 1975-1976. He later took a two-year leave from Yale Law School in 1979-1981 to serve as a full-time volunteer with the Nobel Prize-winning organization Peace People in Belfast. Following law school, Tom worked with two US Speakers of the House, Tip O'Neill and Tom Foley (no relation), and for Senator Joe Biden on Irish issues in Washington. When Northern Irish peace leaders traveled to the United States, Tom Foley was often called on to host them during their visits.

That neighborhood friendship led to some amazing opportunities for Derry's heritage trip. Throughout his life, Tom Foley had worked closely with leaders of the Corrymeela Community, a peace and reconciliation group dedicated to bringing all sides of the political conflict to the table. As part of the Derry Heritage Tour, plans were made to stay at Corrymeela to learn more about its work.

Tom Foley also helped Derry connect with the world events. John Hume, the 1998 Nobel Peace Prize winner, had been invited to be a speaker at the March 1999 Congressional Retreat that was held at the Hershey Lodge. Hume, a Roman Catholic, along with David Trimble, a Protestant, won the Nobel prize for their efforts to bring peace to Northern Ireland. Their work resulted in the Good Friday Peace Agreement, signed on April 10, 1998. The agreement ended most of the violence of the 'Troubles,' the political conflict in Northern Ireland that had ensued since the late 1960s. The agreement was a major development in the Northern Ireland peace process of the 1990s.

John Hume was a native of Derry, Northern Ireland. During his March 1999 visit to Hershey, he became aware that 'Derry' was the name of the township and this piqued his curiosity. His host, Tom Foley, told him about Derry Church and the origins of the township name. Tom brought John Hume over to Derry Church so that he could learn more about the history of our church. They had an impromptu meeting with Pastor Dick Houtz and Pastor Marie Buffaloe under the oak trees by the cemetery. When John Hume learned of our plans to visit Derry (Northern Ireland) he wanted to know the schedule so that he could meet and worship with the group when they visited the First Presbyterian Church (in Derry).

When the travel group arrived in Derry, they were met not only by John Hume, but also the Mayor of Derry, who joined them for Sunday worship and then hosted the travel group at Derry City Hall following worship. It was a truly memorable event for the Derry Church travel group, made possible by a chance, serendipitous meeting.
Related Articles