Sue George • Director of Communications & Technology
September 24, 2020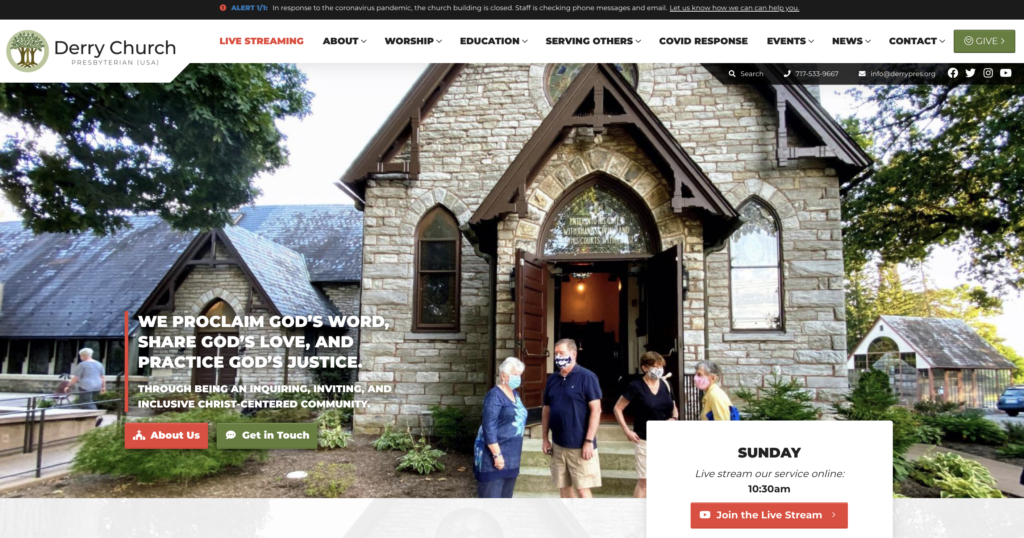 What a summer it has been in the communications corner of Derry Church! When I last checked in with you in early April, I never dreamed that six months later I'd be working with brand-new cameras and equipment in the Sanctuary and overseeing a whole new system for bringing you live streaming worship. I am grateful to everyone who made it possible for us to obtain the new equipment, to all the talented singers and musicians who make time in their day to film segments that we include each week, to those who film and submit creative clips from their homes, and especially to the AV crew who has really stepped up to put in extra time to learn new procedures and equipment.
Our AV volunteers arrive each Sunday by 9 am, and it takes us a full hour to test, practice and rehearse all that we've prepared to include in the live streaming service. One person runs the audio board, one person controls the cameras, and one person is in charge of all the video content and title slides using new ProPresenter software. The crew works together to check sound levels and coordinate with the pastors and Grant to make sure everyone knows where to look and what to expect. On Sept 13 it was a good thing Pastor Stephen reminded me to drop in a picture of a painting he wanted to show during the sermon. You almost didn't get to see that!
Our new Boxcast streaming platform makes it easy for the Sunday service to be available for a full week on Derry Church's website. Just go to our live streaming page and scroll down until you find the video player. In the "Related Videos" section you'll find the most recent Sunday service.
Did you know there are multiple ways you can watch Derry's live streaming service on Sunday morning?
Finally, I'm delighted to share with you the good news that Derry Church's refreshed website is expected to launch in October. We were part-way through the redesign when the pandemic hit and we realized a lot of the content we planned to feature on the site suddenly didn't make sense to include at this time. The Communications & Technology Committee went back to the drawing board and re-thought what the site should be when so much of church life is virtual. We've emphasized the live streaming worship and Derry's COVID response, and carefully selected photos that make sense right now.
If you have questions or concerns about the website, live streaming, or anything else tech related, I invite you to email me or better yet, drop in for my weekly tech time sessions on Zoom from 1-2 pm on Monday afternoons. (let me know if you need the meeting ID). I realize that for many, the new emphasis on technology has been challenging. I'm here to help, so please do reach out so you can stay connected to all that's happening in our vibrant congregation.
Related Articles