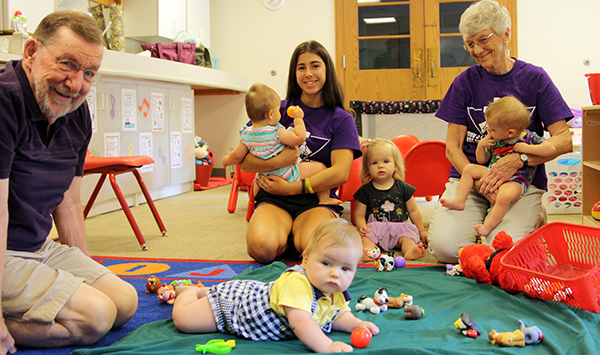 Child care for ages 1-3 is available in the church nursery from 10:15 am through the end of worship.

The nursery team has worked together to create NEW safety protocols in order to provide a safer environment for the children:
Check-in takes place at the entrance to the nursery suite. Only church staff, nursery staff & volunteers, and children age 1-3 will be permitted to enter the nursery suite.
When checking in your child(ren), please remember to indicate your pager number on the sign in sheet.
All items need to be labeled with your child's name. Items not labeled will not be offered to your child.
Diaper bags will have a nursery tag attached. Please keep this tag on your bag to make it easy for our nursery staff and volunteers to find the appropriate bag when needed each week.
Children age 2 and older are asked to wear a mask. The nursery staff knows this will not be easy for all children and are ready to work with each child to help them become more comfortable over time.
We encourage you to arrive a few minutes early to give time for checking in your child(ren). We look forward to learning, playing and having fun with our young friends, and we hope to see you soon.
---