Shawl Ministry
Meets at 3 pm on the second Monday of the month from Nov-Feb. From Mar-Oct, the group meets at 7 pm.  
Contact Sue George
Participants in Derry's Shawl Ministry knit and crochet shawls that are given away to anyone who could benefit from the warmth and comfort of a hand-made shawl.
Shawls have been made for those who are ill or in the hospital, for those who are grieving the loss of a loved one, for cheer and for comfort, for members of the church and for friends in the community and across the country. The group also makes shawls that are given to babies (and others) at their baptism, dorm blankets for graduating high school seniors, and soft caps to warm chemotherapy patients who have lost hair.
Shawl Ministry members knit or crochet at their own pace, and as they work, they say prayers for or meditate about the person who will be receiving the shawl.
Shawl Ministry welcomes new participants at any time from the church and community — including those who already know how to make shawls and those who would like to learn. Monthly gatherings include time for prayer, for knitting and listening to stories about the shawls that have already been given away, and for blessing any shawls that have been completed.
Since the group began in January 2005, more than 1,750 shawls have been made and blessed by Shawl Ministry members. Many of the completed shawls are delivered by the Deacons of Derry Church.
Contact Sue George for more information about this meaningful ministry.
Caring for Animals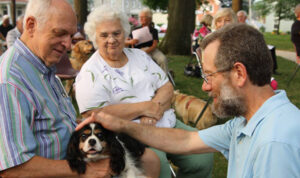 Many people today live with cats, dogs, and other animals that they consider to be members of the family. If that describes you, know that you're in good company at Derry Presbyterian Church.
Derry's Animal Companion Care program exists to provide support when your pets are sick or dying.
Just contact the church office and we'll get you connected with the program coordinator. The Animal Companion Care volunteers can also help you if your animal is very ill or dies, and you need someone to talk to or to help you with burying or memorializing your animal.
A resource book of prayers (for sick or dying animals and for burying a beloved pet) is available from the church office or at the Information Center near the main sanctuary.
In August, Derry Church offers an evening service on the front lawn celebrating our covenant with animals. The service includes hands-on blessing of the animals that share our lives.