Dan Stokes • Sanctuary Choir Director
August 13, 2020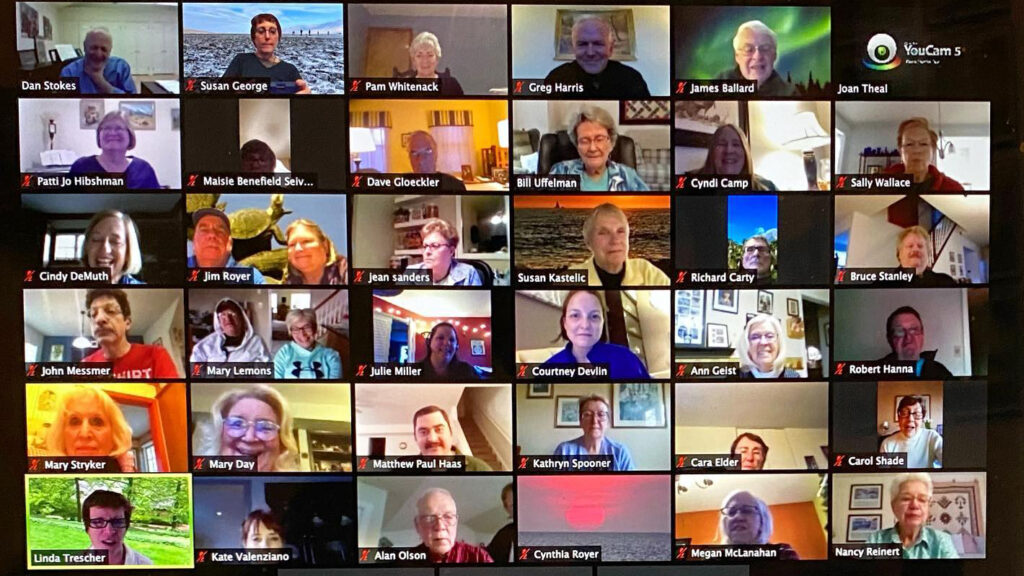 Bless the Lord, my soul
and bless God's holy name.
Bless the Lord, my soul,
who leads me into life.
These words from Psalm 103 open every Sanctuary Choir rehearsal. The concerns of day melt away as we sing this refrain over and over, focusing on our reason for being, both as a choir and as people of faith.
Our song was disrupted in mid-March.
Choir people are hard core. We need to sing. We need to be together. That's why we are committed to Thursday evenings and Sunday mornings. Like everyone, we were and are most unhappy about this!
We began to connect through Zoom, holding to our tradition of singing of Psalm 103. While we tried to encourage one another, we also needed to be authentic with one another. Singing the words, "Bless the Lord, my soul, who leads me into life" seemed incongruent to us as a choir.
We found life as we joined our voices in song. That wasn't going to happen anytime soon. And yet, our weekly Zooms began to take shape, we open in song and we close singing the beloved blessing "The Lord Bless You and Keep You" to one another.
Early on, Nancy Reinert shared words about living in the present, not missing the gift of each moment as part of a devotional. Something shifted for us. We began to find a new depth of community with each Zoom Choir as mem-bers shared their favorite hymns, moments of laughter in their week and moments of "finding life." One particular night as we were honestly sharing burdens, one of our newest choir members, someone new to the Christian faith, shared words she had just discovered reading the book of James,
Consider it pure joy, my brothers and sisters, whenever you face trials of many kinds, be-cause you know that the testing of your faith produces perseverance. Let perseverance finish its work so that you may be mature and complete, not lacking anything. James 1:2-4
With each meeting there are surprises and gifts of encouragement. They come as we sing "Bless the Lord, my soul, who leads me into life" in the midst of a pandemic. It will be our special joy to welcome Grant, our new director of music, at tonight's choir zoom. He brings amazing music gifts and a beautiful open spirit. Exciting days ahead!
Related Articles