Alma Bobb • Derry Member
November 19, 2020
Derry Church is blessed by the many people who make up our church family. In addition to their roles and leadership at church, they have often played important roles in the growth and development of the larger Hershey community. Hershey Community Archives' oral history collection holds interviews with many Derry Church members. These interviews provide information about their lives and contributions to Derry and the community. Thanks to Pam Whitenack for sharing this profile with us.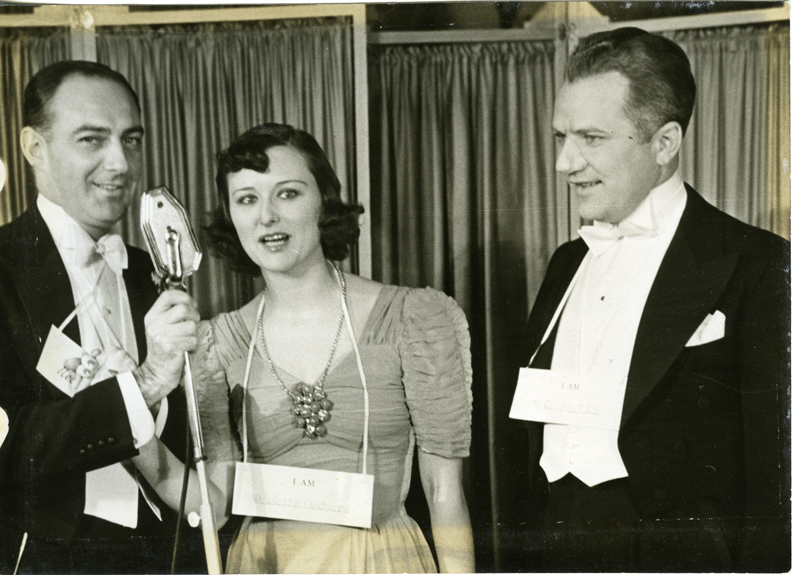 Alma Payne Bobb is Derry's oldest member. On November 29 she will celebrate her 107th birthday.
Born in 1913, Alma spent her summers in Harrisburg visiting her grandparents and extended family. Her earliest memories of Hershey were when she would come here for a picnic on top of Pat's Hill. In her 1988 Hershey Community Archives oral history interview she said: My grandfather would have been a contemporary of Milton Hershey. I remember my grandfather saying, "Oh, Mr. Hershey has some kind of a crazy idea of building a resort hotel up here. What won't he think of next?" Pat's Hill is where the hotel now has been erected, and, of course, Mr. Hershey's dream for that hotel became a reality
Alma had a career as a professional dancer, performing across the United States and in Europe. She appeared in vaudeville, which was a big thing in those days in presentation houses. In her interview, she related
Then I went to Europe in 1935. I was working over there almost a year. I went with a [dance] partner. We appeared at the Palladium Theater in London and doubled at the Savoy Hotel in their Supper Room. Then we played the Empire Theaters throughout England and Scotland. Then we went over onto the continent and worked in Paris and Budapest and Monte Carlo.
As World War II threatened, she returned to the United States. In between bookings, she would often come to stay with her grandparents in Harrisburg. She met her husband, Jim Bobb, on a double date to go dancing. Jim was an excellent dancer and they soon started dating. They had a long courtship as Jim waited for Alma to be ready to leave her dancing career.
After they married, they first lived in an apartment building across from the Hershey Arena. Alma sought out many volunteer opportunities. During the war, she volunteered as an airplane spotter, watching from her station in the Milton Hershey School Senior Hall (now Catherine Hall) bell tower. She also trained as a convoy driver, serving in the American Red Cross Motor Corps, out of Harrisburg.
After the war, there really were not many volunteer opportunities for women in Hershey. Many women played bridge. Alma, seeking an outlet, sought out volunteer activities in Harrisburg. She remembered,
So I have always been volunteer-minded because with Jim's work, he did a lot of local volunteer work, in addition to his job. I got started in it, and I must admit it was not really for altruistic purposes; it was for an outlet for my energy. (Laughs) But later I became very interested and committed to volunteer work and to the idea that people owe their civic duty.
Alma's duties as a spouse expanded when her husband was elected to the Hershey Trust Company Board of Directors and the Milton Hershey School Board of Managers. Many evenings were filled with business social affairs. Alma recalled,
As Hershey became a focal point for large meetings and association meetings, they would want a company official to send greetings or something. So we did a great deal of that, and there would be outside groups, the Milton Hershey School things, commencements, homecoming, things of that sort. We all participated in that, and that was part of the men's jobs if they were on the boards, and their wives'. All commencement weekend, all homecoming weekend, and that took priority. That went with the jobs. But the nature of Jim's job was that we would be entertained if he were invited, because of his position, to go to a big banquet of a large convention, and I would usually go with him if the wives were involved.
Hershey Junior College offered two years of free college education and Alma took advantage of that. She was the first full-time adult day student at Hershey Junior College She completed her education at Lebanon Valley College. At that time, there were not many middle-aged women attending college and Alma's efforts were questioned at first. Alma remembered:
It took me ten and a half years overall. What I learned was that I couldn't do it halfway. I couldn't go to a party one afternoon and then be in class the next, because if I weren't in class, I had to study. So I had to set up some priorities. This gave me a complete break for a while from volunteer activities. I had paid my dues. Jim's work took priority. Anything that he was involved in that required my presence, that came first.
Alma devoted herself to her marriage and supporting her husband in his career. Following his death in 1982, Alma continued to live in Hershey. However, her son Woody and his family were living in Santa Fe, New Mexico. In 1988 she moved there to be closer to her son. She returned to Hershey in 2011.
Related Articles