Laura Cox • Director, Derry Discovery Days Preschool
June 30, 2022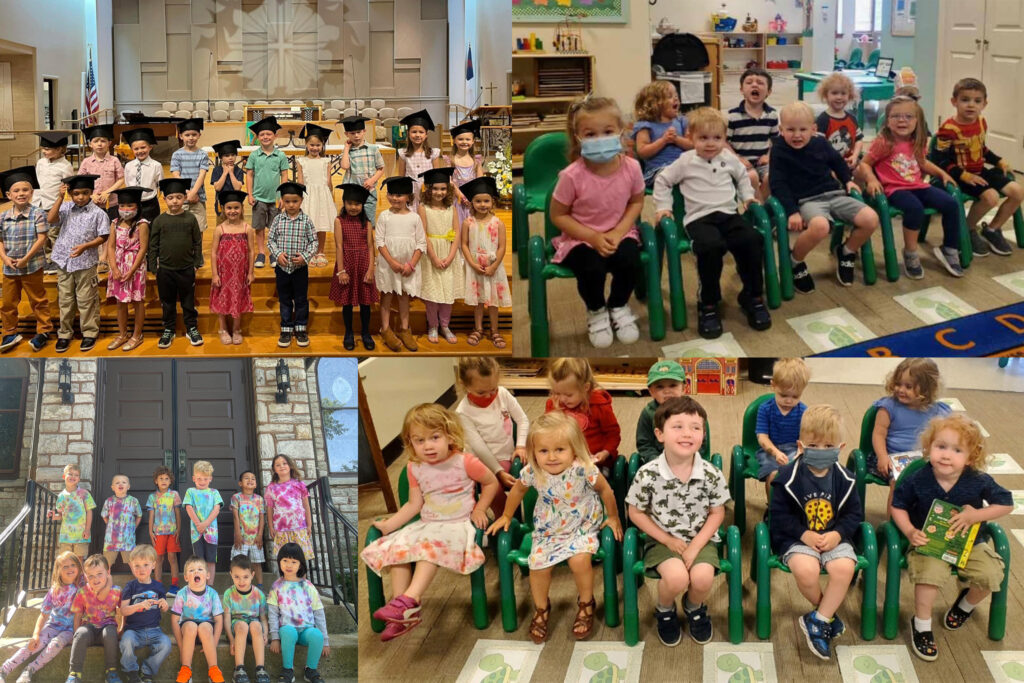 2021-22 was a very special school year at Derry Discovery Days Preschool!
We concluded our school year on May 26 when 22 of our Butterfly 4s students graduated at a ceremony in the Sanctuary followed by a reception and art show. The children performed several songs for their families and it was wonderful to have everyone gather together to celebrate these amazing students. Each student received a diploma and award that highlighted a character trait they exhibited throughout the year. Jill Felter and I loved teaching these students and are so proud of them for all of their hard work during another year impacted by COVID-19. We wish them the best in kindergarten!
In year two of operating a preschool during a pandemic, we continue to be blessed by having so many dedicated staff members who truly view their students as their second family. This year we re-opened our Turtle 2s class and Morgan Smink led this adorable group, many of whom had very limited previous social interaction due to the pandemic. These shy, nervous children quickly became a family and confident little learners. Our Busy Bee 3s class led by Rachel Bullard was full of vibrant and fun personalities and their energy and excitement was evident daily as they learned, played and made special friendships.
Other highlights from our school year included a visit from the Hershey Fire Department during Fire Safety Week, our annual Halloween Parade with a special visit by Pastor Pam in her dinosaur costume, our Christmas concert, weekly yoga and soccer classes, Lunch Bunch, Mystery Reader visits, holiday parties, our end of year picnic at Patriot Park and our Summer Camp week. Many thanks to our incredibly special families who blessed us with their beautiful children and were beyond generous with many donations and fundraiser support. Lastly, we want to thank the DDD Board for showing our staff such love during Teacher Appreciation Week. We loved the daily treats!
We look forward to the 2022-23 school year starting on September 6 with the reopening of our Ladybug 1s classroom and the return of our enrichment program for pre-K students. Our afternoon Butterfly 4s class has a few openings: contact me for more information. We hope everyone has a great summer!
Related Articles