Mayangela Speicher • Derry Youth
February 17, 2022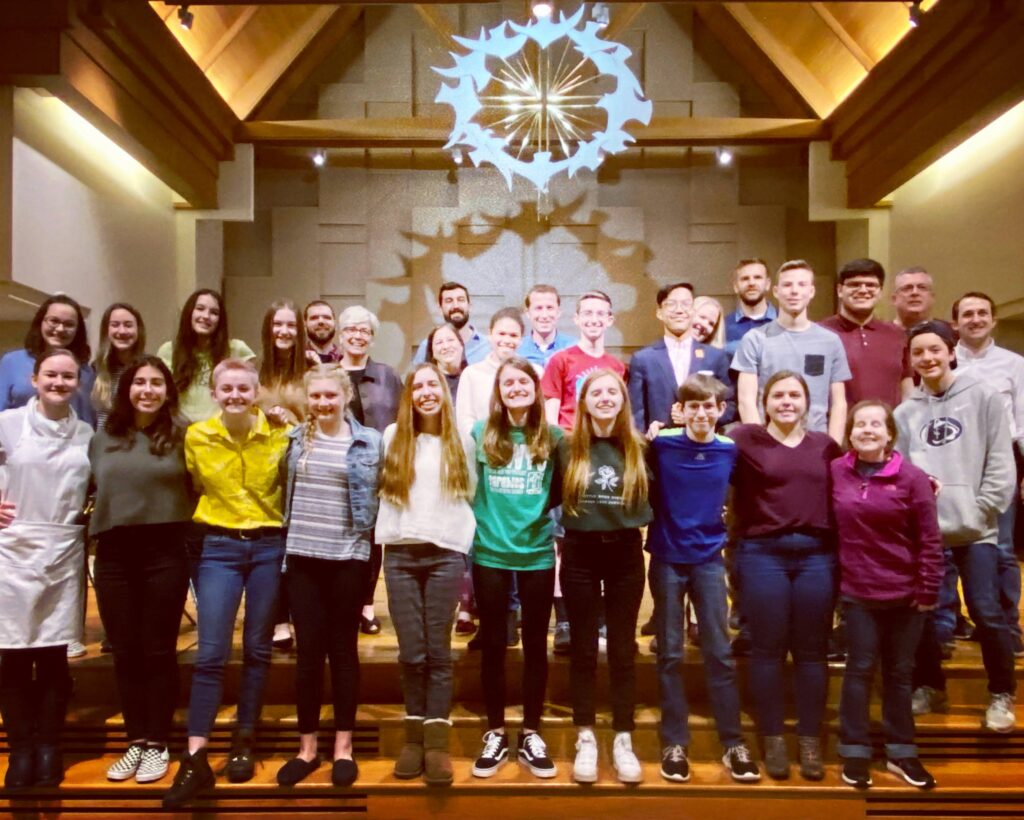 As long as I can remember, I have been a part of Derry Church and all the programs it offers. Since I was a little girl, I participated in the singing choirs, bells, puppet ministries, Pilgrim fellowship, reading liturgy, and of course being a part of the youth group since sixth grade.
Participating in the youth group has been a fun, rewarding, and educational experience. I was so excited to finally join youth group when I reached the age to join. Youth group offered me so many fun opportunities to share friendships, learn more about the teaching of the Bible, and being able to play such awesome games like finger rockets or the weirdest games that Pastor Stephen is somehow able to come up with.
Before COVID, youth group obviously looked and felt a little different. We were able to go to fun filled retreats in the fall and summer which involved messy games but great inspirational readings, moments to be able to bond with each other, and the new friends you make. Another occasion to meet new people is by attending the Unite Youth events. I always had such an amazing time going to those kinds of activities with our Youth Group.
I definitely want to talk about the amazing youth group leaders that I have had the honor to know and appreciate their passion. The first youth group leader I had was Jackie. She was such a nice person and made youth group the most fun it could be. She always had engaging lessons planned out mostly about how you can use the teachings of Jesus Christ to use in the real world that can make an impact on society.
Then Pastor Stephen came in to help out. He is such a great pastor and from time to time youth group leader. He has amazing energy that brightens up youth group. I always love playing his games and hearing him speak his sermons and devotionals. And now Pastor Pam. She is such a nice and funny person that always lightens up the room. She has great knowledge of the Bible and has really good lessons. She has such a fun personality that ties in with the youth group.
I love how Derry Church has more than a youth group. I have participated in the music aspect for a long time. Bells and singing have been a very educational experience for me. Puppets with Claudia are a joy. Claudia Holtzman has very talented creative skills that she can tie in with sharing the stories of the Bible. I have learned so much from her and how to be as creative as possible. God's Hidden Hands is such a great way to express the teachings and I am glad I am a part of it.
In ninth grade I was fortunate enough to be involved in confirmation before the coronavirus hit. I learned so much and I am finally able to be a member here at Derry Church. Now during COVID we are not doing as much due to the virus but we try to do as many fun activities as possible. I went whitewater rafting with the youth group and Pastor Stephen which was incredible! We are also finally doing a youth group trip which is taking place in Maine, which is very exciting!
All these memories I am able to share with amazing people and the church I really care about. Hopefully, when there are less restrictions we are able to still have such a fun youth group and make more memories and friendships along the way.
Editor's Note: Mayangela is a junior at Hershey High School, the daughter of Doug and Cenaida Speicher and the granddaughter of Fred Speicher. Mayangela has been involved in the Hershey High School theater productions since 9th grade, and you can see her in the 2022 production of Beauty and The Beast as a "Silly Girl." She has been dancing with Frances Mohler for about four years, and is a member of Derry's Youth Leadership Committee. In her free time, Mayangela loves to watch movies and sing.
Related Articles