Derry Church Sends Logos Academy Children on a Field Trip
October 19, 2022
Logos Academy sends their thanks to Derry Church for sponsoring a recent field trip to Lake Tobias. A number of their students have little idea about the world beyond the city. Seeing animals in the 'wild' at a place like Lake Tobias was quite the adventure for many students.
One of the first graders asked (before the trip) if cows lived in the jungle, which provides some context to the value of an experience like this for city kids. Two students with a fascination for sloths were beyond excited to see one! These siblings, independent of each other, covered their months in sheer joy of seeing these animals in a natural setting.
Logos Academy is one of Derry Church's mission partners that strives to provide a whole child, quality and compassionate education in a Christ-centered environment.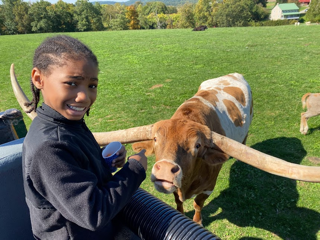 Related Articles