Note of Thanks from Pastor Marie
March 30, 2022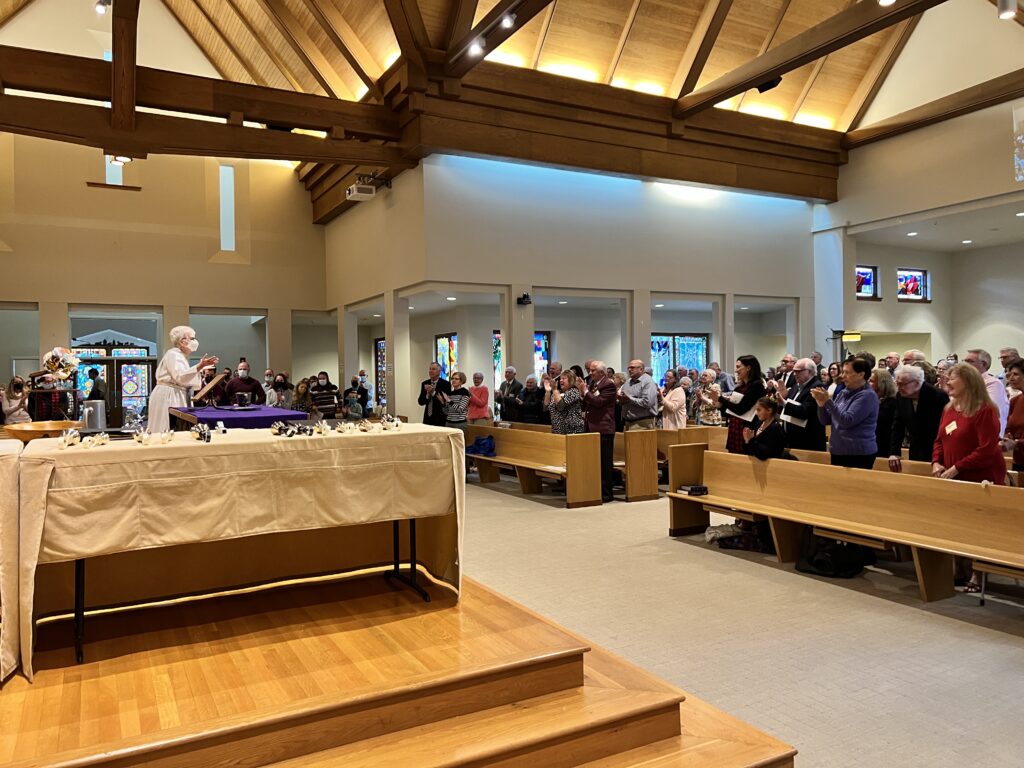 Wow! My heart is overflowing with gratitude in your outpouring of love on my last Sunday. Thanks to everyone…from the choir's beautiful anthems at both morning services, buffalo-checked attire that brought smiles and delights, Derry Ringers' wonderful preludes, Grant's 'Country Road' postlude (WV anthem), Derry Brass' 'Sweet Caroline' prelude, and Ryan Yingst's 'Carolina in my Mind' Tarheel anthem. AND that's just the music. Loretta's epic receptions (plural) were fabulous, beautiful, and delicious and included my favorites (even NC Cheerwine punch (no worries, it's a soda!) and homemade, chocolate buffalo cookies! Thanks to the gifted army of hardworking kitchen volunteers who were there all day.
The gift of the St. Matthew stained glass window in my honor is overwhelming to me. I am touched beyond words by your generosity and love. The baptism painting by Jill Peckelun and the hand woven scarf by Sandy Morales are treasured symbols of your love as well as the many gift cards from the Personnel committee. Even better were the words by people and puppets and the multitude of personal cards and gifts. Thanks to Sue and the tech crew for live streaming that enabled more family and friends to join in this celebration. I am humbled and touched with gratitude in this transition to retirement.
It's been a joy to serve as one of your pastors at Derry over these last years. At retirement the relationship between pastor and congregation changes. However, the relationships and friendships do not end, but my role as one of your pastors does. We know in the Presbyterian church, it is helpful that I absent myself from Derry worship services and activities for this season of transition. I will not be available to officiate at weddings, baptisms, or funerals for Derry members. Yet my love and prayers continue for each one. Brad and I are grateful for the gift of friendships in the Derry Church family.
From Brad: Oh Derry, you have pulled out all the stops for a most memorable celebration. You even exceeded Marie's wish for a pony! One of the great joys of my 18 retirement years has been the privilege of sharing in the worship, ministry and mission life of Derry Church. I am so thankful to you for adopting me into the Derry family. For your support, partnership, affection and care for Marie across these years I am especially grateful. Thank you.
Media Links: Watch Marie's final worship service and the 3 pm program on March 27. Click to see photos from the day of celebration… click here to see the pictures included in Pastor Marie's slide show.
Related Articles