Rev. Marie Buffaloe • PARISH ASSOCIATE FOR CONGREGATIONAL LIFE AND CARE
March 31, 2022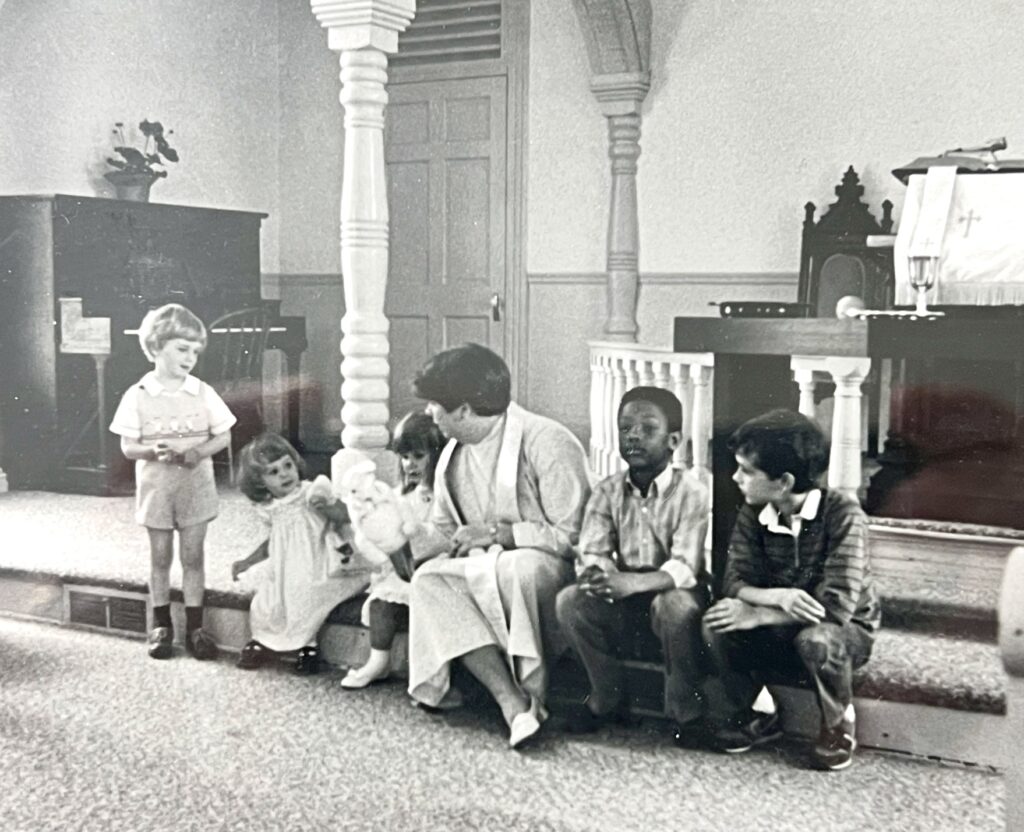 When one retires and reflects on their vocation, it's like looking at the tip of an iceberg. Some say that what is visible on an iceberg is only 10% of it. When I think about my ministry at Derry, all you can see from your perspective at Derry is the tip of my iceberg, these last 25 years where I've been privileged to serve as one of your pastors. Just below the water line are my previous pastorates in southern WV (Trinity Presbyterian Church, Shady Spring, WV- 1990-1996) and central Virginia (Rustburg Presbyterian Church, Rustburg, VA 1982-1990)
But that data does not tell you all. The base of my iceberg goes much deeper. It includes generations of hard-working and faithful Scottish ancestors who valued education and had a dedicated trust in a loving God and shared these priorities with their children and grandchildren. Although they did not realize it at the time, they were from a privileged, dominant group as white people, and that reality helped to create my stable iceberg.
From my generations of North Carolina farming ancestors, I learned the love of land and creation, valued hard work from each family member, including young children. I was given the opportunity to explore whatever was of interest. I thrived in a rich diet of southern farm to table cuisine when it was an ordinary occurrence of self-sufficiency. This was all covered with layers of unconditional love, like gravy on mashed potatoes. My iceberg grew and was surrounded with Presbyterian ancestors who were church leaders and thoughtful, questioning Christians. My home church and its congregation were an extension of my family and home. This is a significant part of the 90% that is below the surface.
But wait, there's more: the gifts of people who made time to guide and mentor me over the years: a home pastor who took me on my college visit, because it was a busy farming season for my dad; a campus minister who gave me a local church job and nudged me to consider seminary; caring professors who encouraged me when I was doubting my sense of call; pastors who supervised me in church internships in Moorefield, WV and Pulaski, VA providing me with models for preaching, conducting funerals, conflict management, and pastoral care that I still use; gifted colleagues here at Derry where I learned the joy of team ministry, and presbytery staff who taught me and provided opportunities to serve other congregations. These important folks helped to broaden that iceberg of my learning and ability to answer this call to ministry. And along the way it was the many members of various congregations who added to my education and faith development. From them and you I learned and saw profound trust in God in the midst of unthinkable tragedies and shared the wonder of God's presence and direction in indescribable joys. Through all of you, I have experienced the commitment and love of Christ and been inspired.
At this milestone of retirement, when I reflect on my ministry, I give special thanks to the many here at Derry who I have enjoyed serving alongside. Together we have been good teams in faithful service to God.
But most of all I am grateful to God who has gifted me with such abundant grace in my ministry through people like you. Retirement is a good opportunity to reflect in gratitude, but you don't need that reason. I encourage you to pause and consider the iceberg underneath your surface and give thanks.
Related Articles