Rev. Stephen McKinney-Whitaker • Pastor
August 6, 2020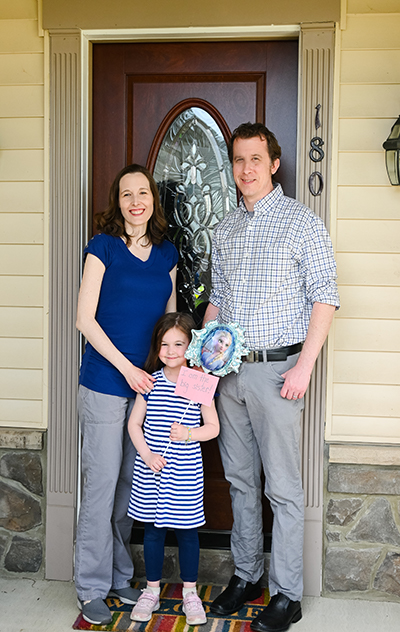 I believe most of you know that Courtney, Verity, and I are expecting a new addition to our family later this month. We are looking forward to welcoming Verity's little brother, whose due date is August 27. As Verity said in her Verity Good News segment of Some Derry Good News back in May, "We are also welcoming a new church member!"
On behalf of our family, I want to thank you for your prayers and support. We, along with many others expecting new additions to their families, did not anticipate navigating pregnancy during a pandemic. It has come with an unexpected set of challenges and losses, but it has also provided us with new opportunities and advantages. While Verity missed going to a big sister class at the hospital and attending Courtney's appointments to see the sonogram and hear her brother's heartbeat, I have been able to be home more during this time. We have had more time as a family to strengthen our own bonds and to prepare for the baby's arrival.
In the weeks leading up to the birth, I plan to take vacation time so I can self-quarantine to ensure I don't get sick, which would prevent me from being with Courtney at the hospital and to be readily available in case of an early delivery. August 16 will be my last Sunday leading worship until September 13. I'm thankful for the amazing and talented staff members who are willing and able to allow me to care for my family's needs during this time.
Following the baby's birth, I will be taking paternity leave. With the support of the Personnel Committee, I will be working half days rather than taking 6 weeks of full-time leave. This will allow me more time at home to help care for Courtney, Verity, and the baby, and it will also allow me to maintain momentum on essential church work. I will still help lead most Sunday worship services, attend virtual meetings, make pastoral calls, and do other planning and work that needs to get done.
I've been hard at work this summer writing sermons, morning meditations, and Sunday school lessons, and planning other activities through Christmas. I will still check email daily, so if you have questions or needs, feel free to contact me.
Thank you for your continued support and prayers and thank you for allowing me time to be with my family during this transition. I am grateful both Verity and her little brother will grow up in a loving and supportive church community that they know cares for them.
Related Articles