Rev. Stephen McKinney-Whitaker • Pastor
July 8, 2021
I'm excited to share with you two summer worship opportunities happening later this month:
On Sunday, July 18 at 7 pm, I invite you to join me as I lead worship at the historic Mt. Gretna Tabernacle with Grant Wareham and some of our musicians. You'll hear a new and updated version of "Checking Our Blindspots" that I preached at Derry last January.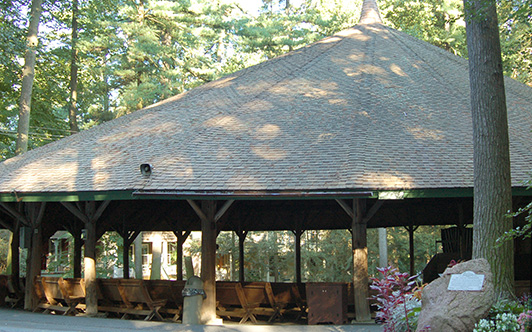 I was scheduled to preach that sermon at Mt. Gretna last summer, then it was postponed because of the pandemic. I reworked the sermon for this past winter's "Truth and Love" series and I'm revising it again for Mt. Gretna. We'll have the fantastic Natalie Taylor sing a solo and our Derry Low Voice Ensemble will reprise their powerful Holy, Holy, Holy anthem. The Derry Brass will be there to play the prelude and postlude.
The Mt. Gretna Tabernacle is a covered outdoor space, so worship will be held rain or shine. If you haven't yet had the opportunity to visit Gretna, the 18th is the perfect time. Come early, grab dinner and explore the area. Or plan to stay after worship and enjoy ice cream from the one and only Jigger Shop with friends new and old.
I'm also happy to announce that Engage worship is back! Our Engage services are creative and participatory worship services that explore different musical genres and artists at each service (and yes the music does all tie into the scripture and worship themes).
On Saturday, July 31 at 6 pm, we will "engage" with the music of the great Billy Joel while considering the promise of God's peaceable Kingdom and the power of community to help bring it to life. We'll hear Grant bring Billy Joel to Hershey through piano renditions of favorites, we'll have soloists sing some classics, and of course the congregation will get to sing along to some of Billy Joel's greatest hits.
I hope you'll join us for one or both of these extra worship opportunities, where masks are optional for all who are vaccinated. Both services will be a lot of fun, so come out to Mt. Gretna and join me in Engage worship featuring the music of Billy Joel.
Related Articles