Sue George • Director of Communications & Technology
July 29, 2021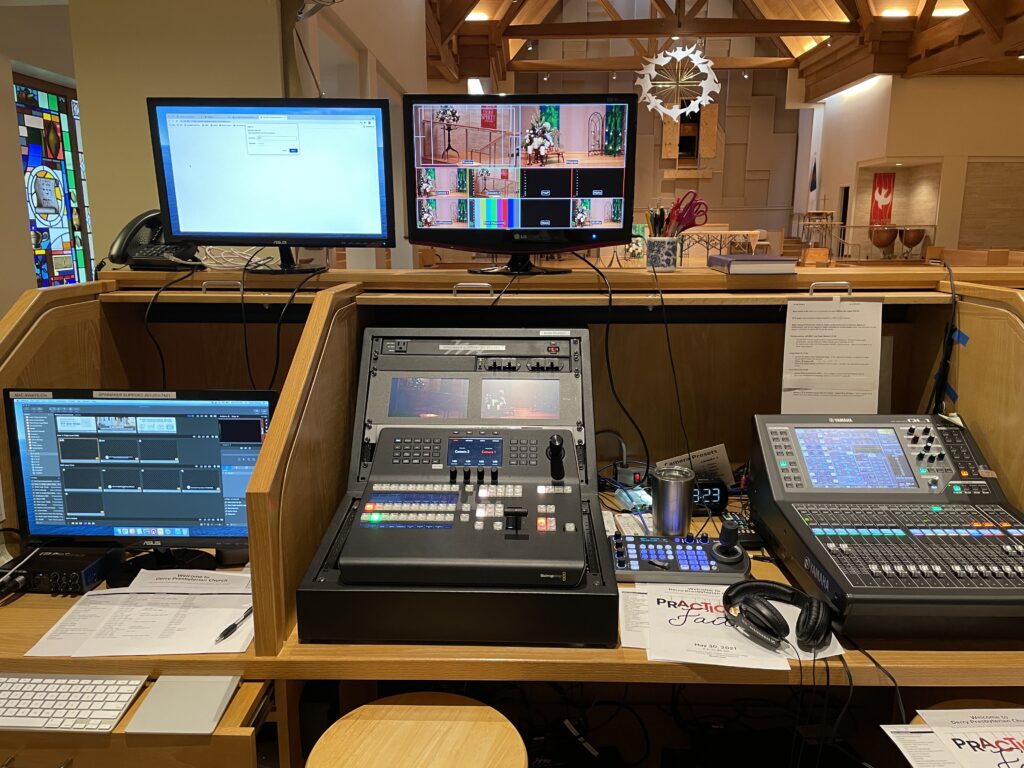 I have a confession: once upon a time I was terrified of the church's audio system. And that was back when it was a much smaller console with no cameras. I didn't want to touch those sliders because I knew I would make something squeal and I wouldn't know how to make the awful noise stop.
In those days my husband Jim and our son Matt were regulars running the audio system. Matt was in high school, and he sat at the console with his friends as they took turns running the board, heads down, whispering to each other. Even as they whispered and nudged each other, they managed to make everything sound just fine and I was glad they had found their niche on Sunday mornings, sitting with friends and paying enough attention to the service to turn the mics on and off at the right time.
By 2015, Derry's first camera system had been installed along with other Sanctuary renovations, and it was time for me to learn how things worked back there. I liked running the cameras, yet there were aspects of the audio board that mystified me. But I didn't worry much about it because Derry had a great AV crew helping to run the sound and video every week.
Then the pandemic hit and we lost some key members of our AV crew. But one thing I've learned at Derry: if you ask, it will be provided. Now I'm looking for some new folks who are intrigued by what goes on in the back and want to learn more. Maybe, like me, the buttons and screens look a little scary. Well, I'm here to tell you that if I can learn how, anyone with a desire to learn can be trained. I invite you to take the first step and contact me. Or maybe your teenage son or daughter would like to learn, and we can kickstart the next generation of young people back at the board. Time commitment is from 9 am to about 11:30 am on Sundays, and training and plenty of practice time is included.
I'll close with a few fun facts:
From the beginning of 2021 until now, we've averaged 226 unique IP addresses watching the live stream on Sunday mornings. That's not how many people are viewing, but how many devices are connected. With an average of 226 IP addresses, it's safe to estimate that 300+ are worshiping online, though those numbers have taken a dip in the summer months and as more people have returned in person. We used to say that Derry had two congregations: one at 8 am and one at 10:30 am, and now, our live streamers make up a third congregation. We're glad you found us and are worshiping with us, wherever you are.
It takes three technicians to produce the virtual service: one operates the audio board, one operates the cameras, and one adds the captions and videos at the right time. Our technicians learn how to run all three pieces of equipment so everyone can step into any position when help is needed. If any of our techs are reading this article, pat yourself on the back. You are awesome and appreciated!
Between 9 and 10 am on Sundays, the tech team runs through the service with the pastors, Grant Wareham and singers or musicians so we can test the microphones, set camera angles, and make sure that the text you see on the screen is correct. Pre-pandemic we never did run-throughs, and now I can't imagine launching the live stream without it.
You can choose from three ways to join the Sunday morning live stream: on the church website, on our YouTube channel, or on our chatty Facebook page. If you miss the live stream on Sunday, just go to the church website before the next Sunday and worship at whatever time works for you.
Subscribe to our YouTube channel and you'll join more than 500 people who look forward to seeing our video content each week. If you like, YouTube can notify you when the service is starting and whenever Derry posts new video content (It's a setting in YouTube notifications. Need help? Join me on Zoom for Tech Time at 1 pm on Mondays.)
The church staff loves it when our live stream viewers sign the guestbook! We read every name and comment, and respond when questions or concerns are submitted.
Whether you join in person or by live streaming, I look forward to seeing you on Sunday.
Related Articles