Stephanie Patton • Derry Member
March 30, 2023
When Sue George asked me to write this week's long read, admittedly I struggled to find a topic. So many things have happened over the last two-three years in the world and my own little corner of it that it's hard for me to quiet my brain long enough to write anything more than a scientific manuscript or a standard operating procedure.
I decided to focus on a topic that has been important to me for years: disability and inclusion.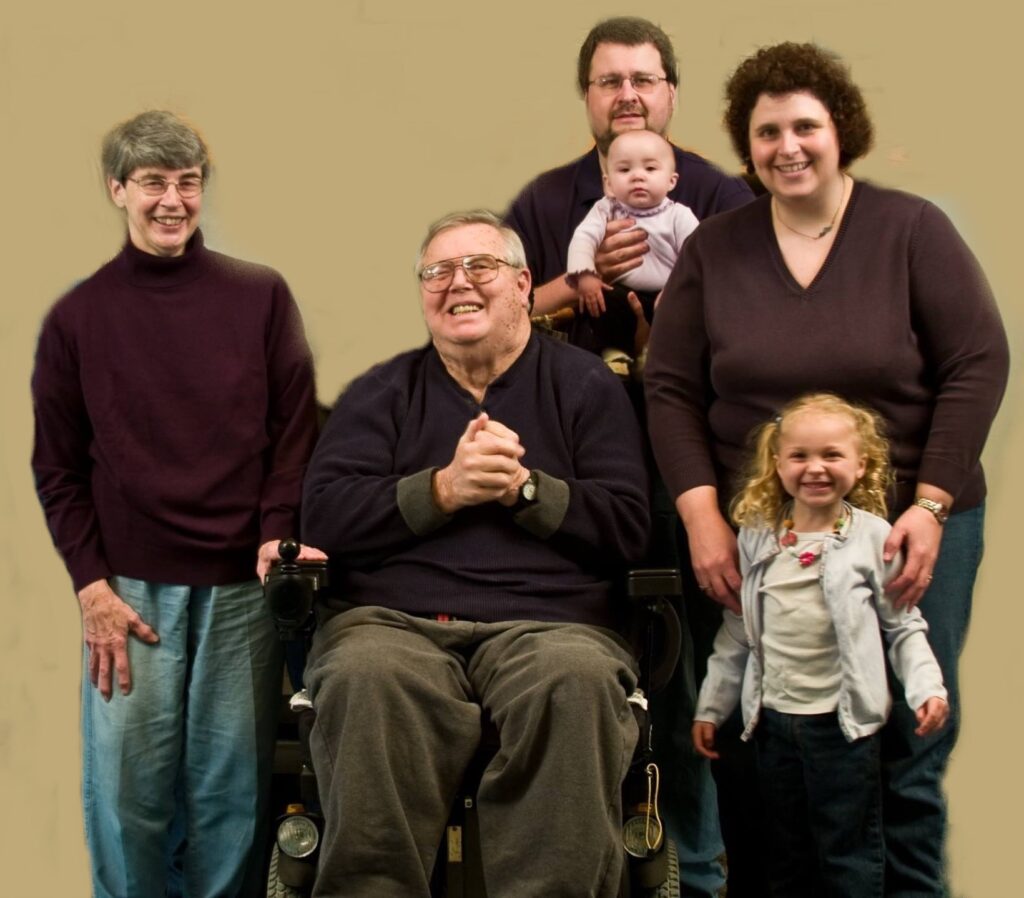 My exposure to disability and inclusion started early — my dad was diagnosed with multiple sclerosis years before I was born. Although the 1970s were a wonderful time for music, movies, and lack of "helicopter parenting," unfortunately, science was not able to provide many treatment regimens for MS and there wasn't a lot of consideration of access to public places, including the church I grew up in, which was built in the 1960s. As the 70s progressed, so did my father's illness. His need for mobility accommodations — first a cane, then a manual wheelchair and eventually, many years later, an electric wheelchair — were a part of his everyday reality.
Church was very important to my parents. To get into my parent's church, you either had to go up or down. There were two entrances plus a few egress exits from the basement, all with at least five steps each. The ADA was not a thing yet and "Universal Design" wasn't either, at least in our small church, so the church had no elevators or ramps. Church dinners, for the most part, took place in the fellowship hall, which like many churches of that era, was in the basement. As you'd imagine, at a certain point, and after more than a few close calls regarding safety, the church decided to install a ramp at one of the entrances, and years later, they installed an elevator so that my dad (and only my dad at that time) could access the first floor classrooms and fellowship hall like all the other congregants. Those decisions, made in the 70s and early 80s, were certainly ahead of their time, but have come to be important in that church as the congregation has continued to age and they have an increased need for accessibility accommodations.
Fast forward to 2006. Wally and I found our own church home and Kate, our older daughter, was being baptized. It was so wonderful that my dad was able to join us in the church and sanctuary without issues in his very large, reclining electric wheelchair and that there were pew cutouts so that he was able to sit with our family for that service. Little did we realize at the time that we, as a family, would go on to experience a whole other world of disabilities – invisible disabilities. Invisible disabilities are defined as physical, mental or neurological conditions that are not (easily) visible from the outside, and yet can limit or challenge a person's movements, senses, or activities. A lack of an obvious disability can easily lead to misunderstandings, false perceptions and judgment. Our experiences with invisible disabilities in our family have been a learning experience for us and those around us. As the years have progressed, we have made connections at Derry that are invaluable. We have found people who embrace the commitment we all make when a child is baptized to support, care for, and nurture those we present or who present themselves to God.
Just before the pandemic, I became involved in Derry's Diversity and Inclusion subcommittee that has focused on identifying and providing accommodations that allow many kids and adults to continue to worship and participate in programming held here at Derry. We've been able to provide education for the staff of Derry Discovery Days regarding diversity and inclusion, as well as specifically provide individualized support so that members and visitors in our congregation can participate in Terrific Tuesday, church school, and youth activities.
If you are interested in learning more about Derry's Diversity and Inclusion Subcommittee, please feel free to contact me or Kristy Elliott. Just like in my dad's case, accommodations and inclusion will certainly help others beyond those you see and help today.
Related Articles