Sue George • DIRECTOR OF COMMUNICATIONS & TECHNOLOGY
March 17, 2022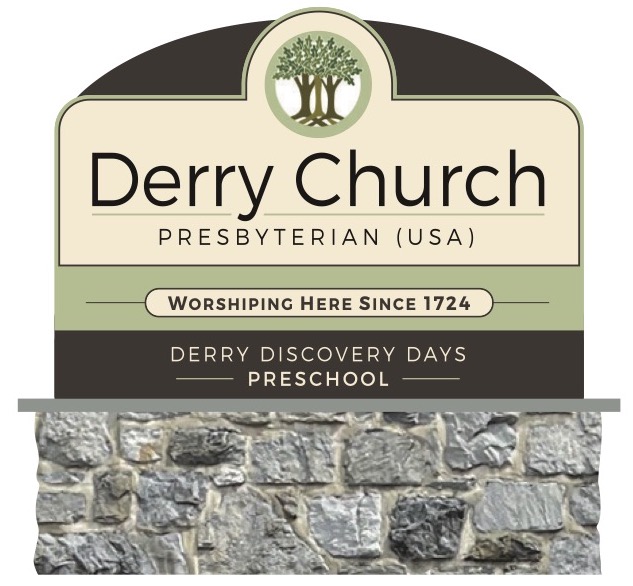 The last time I wrote to you in this space, I was focused on the Sunday morning live stream and recruiting for the AV crew. This time I'm writing about something ultra low tech: new outdoor signage for Derry Church.
If you've been on the church campus recently, you may have noticed that some signs are deteriorating, have incorrect information, or are missing altogether. Since 2018, the Communications & Technology Committee (CTC) has been vetting sign vendors and figuring out what signs are needed, what they should look like and what they should say. We considered an electronic sign along East Derry Road that would have scrolling text, but dismissed it when we realized it would be hard to read driving by… then we discovered our neighborhood wasn't even zoned for that kind of signage.
We knew we wanted to incorporate the church's new tree logo and colors into a unified brand. Working with the security committee, we also knew we needed to number all of the doors in a logical sequence that would make it easy for everyone to locate the entrance they want, especially emergency personnel.
As we met with sign vendors, shared our ideas and listened to their proposals, one company rose to the top, offering a great combination of thoughtful design and competitive pricing: Stoner Graphix. If you've been to the Hershey Story Museum, Chocolate World or Hersheypark, you've seen their work. They've been in business for 30 years and even better, their Hummelstown facility is practically in our back yard.
Their package includes a new sign at the corner of Mansion Road and Chocolate Avenue, a new sign that offers clear directions when you're at the T by the Session House and don't know if you should turn left or right, and an illuminated tree logo over the courtyard entrance that effectively bridges our outdoor and indoor spaces.
In January we presented Stoner's proposed sign package to the Session, and in February it was approved with minor modifications. You can expect to see the signs installed later this year, while the CTC turns its attention indoors to begin the process of updating interior signs. Our goal is to have all the new signs in place in time for Derry's 300th anniversary in 2024.
While the sign project isn't as glamorous as live streaming, it's a key element in making our campus more welcoming. We want to make it easy for everyone to find their way around and let them know we're glad they're here. Stay tuned: exciting changes are on the horizon!
Related Articles